Community Assistance in Preparing Local Resources-Based Organic Agricultural Production Facilities
Keywords:
botanic pesticide, compost, organic production facilities
Abstract
The decreased soil carrying capacity is due to reduced soil organic matter content, caused by disproportionally larger use of inorganic fertilizers and synthetic chemical pesticides in farming activities than organic fertilizers and environmentally friendly weeds, disease, and insect pests control materials. Reducing the use of inorganic fertilizers and synthetic chemical pesticides could be done by using production facilities of organic agriculture in the form of organic fertilizers and synthetic non-chemical pesticides on a larger scale, which base materials are available in nature. The problem faced by farmers in using these inputs is the lack of awareness and skills in producing organic inputs. This community service program with competitive schematics aims to assist the community in preparing local resource-based organic production inputs in Uwe Nuni Village, Palolo District. Specifically, to increase the awareness and skills of farmers in producing organic inputs based on local resources. The method used for counselling and training is Focus Group Discussion (FGD) approach, as well as practice and demonstration plots, which also provide technical guidance on making compost and botanical pesticides, and organic-based plant cultivation techniques. The results of the community service program show that the implementation of counselling and training increases the community's awareness, skills, and attitudes by 38%, 56% and 54%, respectively. The compost made during the technology training was made from cow and goat manure, while the botanical insecticides were made from quickstick (Gliricidia sepium) plant leaves, papaya leaves, and soursop leaves. These plants are potential resources in Uwe Nuni Village, Palolo District.
References
Amanah, S. (2007). Makna Penyuluhan dan Transformasi Perilaku Manusia. Jurnal Penyuluhan, 3(1). https://doi.org/10.25015/penyuluhan.v3i1.2152
Badan Pusat Statitik, (2018). Kecamatan Palolo Dalam Angka. Badan Pusat Statistik Kabupaten Sigi
Hasibuan, S. Z. (2015). Pemanfaatan Bahan Organik dalam Perbaikan Beberapa Sifat Tanah Pasir Pantai Selatan Kulon Progo. Planta Tropika: Journal of Agro Science, 3(1). https://doi.org/10.18196/pt.2015.037.31-40
Idham, I., Pagiu, S., Lasmini, S. A., & Nasir, B. H. (2021). Effect of Doses of Green Manure from Different Sources on Growth and Yield of Maize in Dryland. International Journal of Design & Nature and Ecodynamics, 16(1), 61–67. https://doi.org/10.18280/ijdne.160108
Indrayani, S., Nuriyanah, N., Nurjanah, L., Wibowo, H., & Priadi, D. (2021). The Production of Compost from Organic Wastes using Bioactivators and Its Application to Celery (Apium graveolens L.) Plant. Jurnal Ilmu Lingkungan, 19(2), 479–484. https://doi.org/10.14710/jil.19.2.479-484
Joseph, B., & Sujatha, S. (2012). Insight of Botanical Based Biopesticides Against Economically Important Pest. Life Sci., 3(11), 11.
Kusumarini, N., Sayifudin, S., Dwi Kautsar, F., & Syekhfani, S. (2020). Peran Bahan Organik Dalam Menurunkan Dampak Paparan Pestisida Terhadap Kesuburan Tanah Dan Serapan Hara Tanaman Sawi. Jurnal Tanah dan Sumberdaya Lahan, 7(1), 127–133. https://doi.org/10.21776/ub.jtsl.2020.007.1.16
Lasmini, S. A., Idham, I., Haji Nasir, B., Pasaru, F., Lakani, I., & Khasanah, N. (2022). Agronomic Performance of Shallot (Allium cepa L. var. Aggregatum) Under Different Mulch and Organic Fertilizers. Tropical and Subtropical Agroecosystems, 25(2). https://doi.org/10.56369/tsaes.4140
Lasmini, S. A., Rosmini, R., Lakani, I., Hayati, N., & Nasir, B. H. (2021). Increasing Shallot Production in Marginal Land Using Mulches and Coconut Husk Fertilizer. International Journal of Design & Nature and Ecodynamics, 16(1), 105–110. https://doi.org/10.18280/ijdne.160114
Lengai, G. M. W., Muthomi, J. W., & Mbega, E. R. (2020). Phytochemical Activity and Role of Botanical Pesticides in Pest Management for Sustainable Agricultural Crop Production. Scientific African, 7, e00239. https://doi.org/10.1016/j.sciaf.2019.e00239
Riadi, M. (2020). Penyuluhan (Pengertian, Tujuan, Program, Metode dan Media). Diakses pada 7/13/2022, dari https://www.kajianpustaka.com/2020/01/penyuluhan-pengertian-tujuan-program.html
Rioba, N. B., & Stevenson, P. C. (2020). Opportunities and Scope for Botanical Extracts and Products for the Management of Fall Armyworm (Spodoptera frugiperda) for Smallholders in Africa. Plants, 9(2), 207. https://doi.org/10.3390/plants9020207
Sasaki, K., Okamoto, M., Shirai, T., Tsuge, Y., Fujino, A., Sasaki, D., Morita, M., Matsuda, F., Kikuchi, J., & Kondo, A. (2016). Toward the Complete Utilization of Rice Straw: Methane Fermentation and Lignin Recovery by a Combinational Process Involving Mechanical Milling, Supporting Material and Nanofiltration. Bioresource Technology, 216, 830–837. https://doi.org/10.1016/j.biortech.2016.06.029
Suharto, E. (2005). Membangun Masyarakat memberdayakan rakyat, Bandung: Refika Aditama. 200 hlm
Wiada, I. D. N. (2021). Jerami Sisa Hasil Tanaman Padi Yang Multifungsi. Dinas Pertanian Kabupaten Buleleng. https://distan.bulelengkab.go.id/informasi/ detail/artikel/66-jerami-sisa-hasil-tanaman-padi-yang-multifungsi. Retrieved on 16 March 2021
Widiyaningrum, P., & Lisdiana. (2015). Efektivitas Proses Pengomposan Sampah Daun Dengan Tiga Sumber Aktivator Berbeda. Rekayasa 13 (2), 107-113
Yang, Y. J., Lei, T., Du, W., Liang, C. L., Li, H. D., & Lv, J. L. (2020). Substituting chemical fertilizer nitrogen with organic manure and comparing their nitrogen use efficiency and winter wheat yield. The Journal of Agricultural Science, 158(4), 262–268. https://doi.org/10.1017/S0021859620000544
Zhou, C., Liu, Z., Huang, Z.-L., Dong, M., Yu, X.-L., & Ning, P. (2015). A New Strategy for Co-Composting Dairy Manure with Rice Straw: Addition of Different Inocula at Three Stages of Composting. Waste Management, 40, 38–43. https://doi.org/10.1016/j.wasman.2015.03.016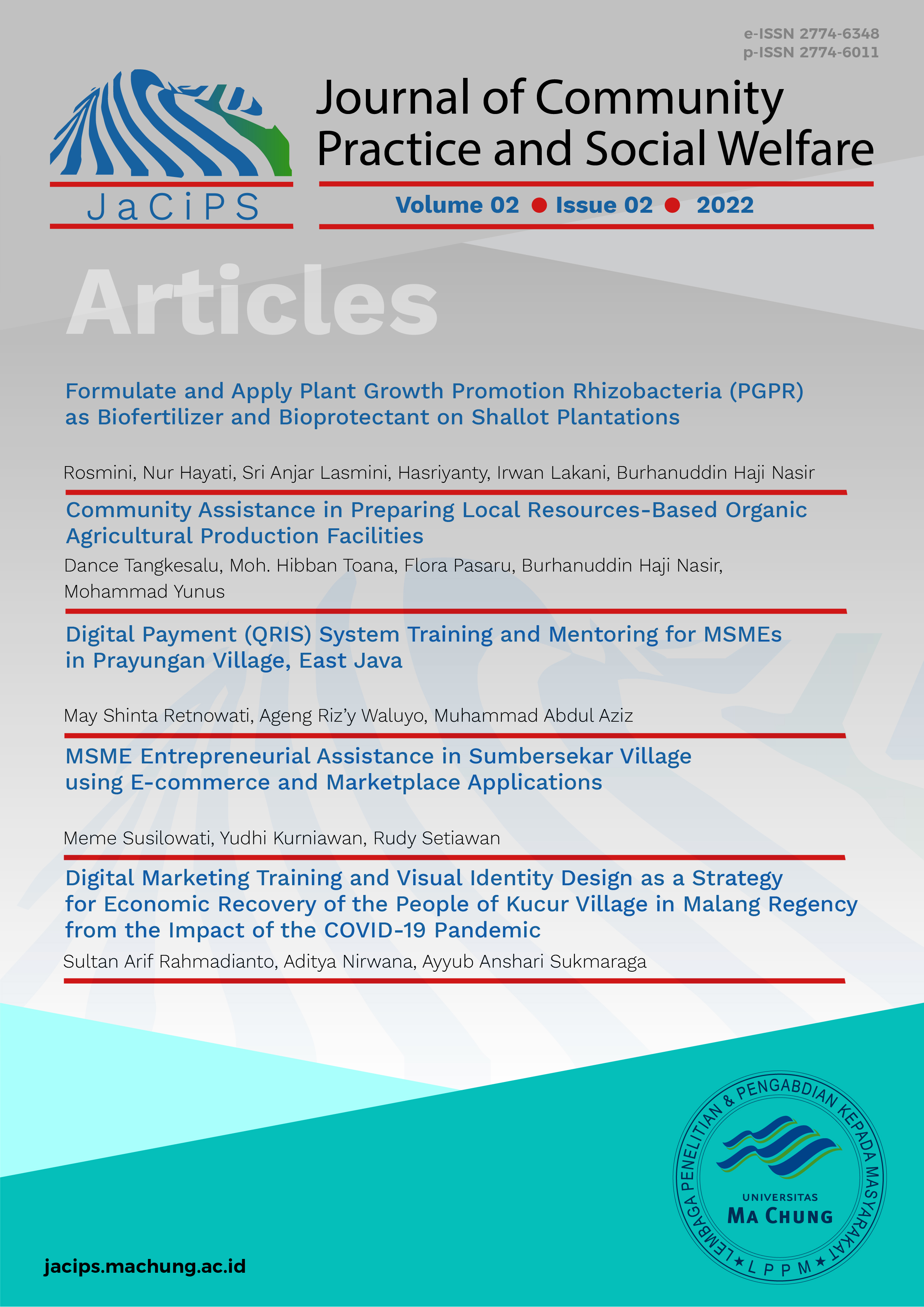 Downloads
License